Brand-new beautified Billing page
Manage your relationship with Padlet from our newly redesigned Billing page.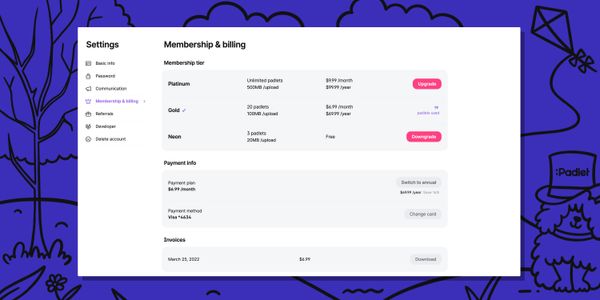 Welcome to the grand opening of our newly renovated Billing page, where beauty, function, and freedom meet.
We redesigned this page to look beautiful and make it as easy as possible for you to keep track of your membership or change it if you need to. The new page supports dark mode and is divided into three sections.
Membership tier
Keep track of your current membership tier and see what alternatives are possible. If you ever decide the grass is greener on the other side, this is where you can switch with a single click. At Padlet, we respect your needs and we will never make it difficult to switch to the free Neon tier. You can always switch to Neon without losing access to any of your padlets. Freedom will always be a click away.
Payment info
Manage your current payment plan and payment method. As a member at Padlet, we make your commitment as flexible as possible. If you're loving Padlet on your monthly plan and think you'll stay for the next year, you can switch to an annual plan and save some money. If you started on an annual plan and realize you won't need it for the duration of the year, you can switch to monthly. If you do elect to switch from annual to monthly, you will be refunded for the remainder of the time on your annual plan before you're charged for your monthly plan.
Invoices
We love educators, and we know that history is instructive. Keep track of your payment history here.
---
At Padlet, membership means freedom. Membership means we care. And now, membership is easier and more beautiful than ever.