Introducing the Padlet App for Zoom
Use the new Padlet app for Zoom to present interactive, lag-free presentations, collaborate, or take notes with Padlet during Zoom calls.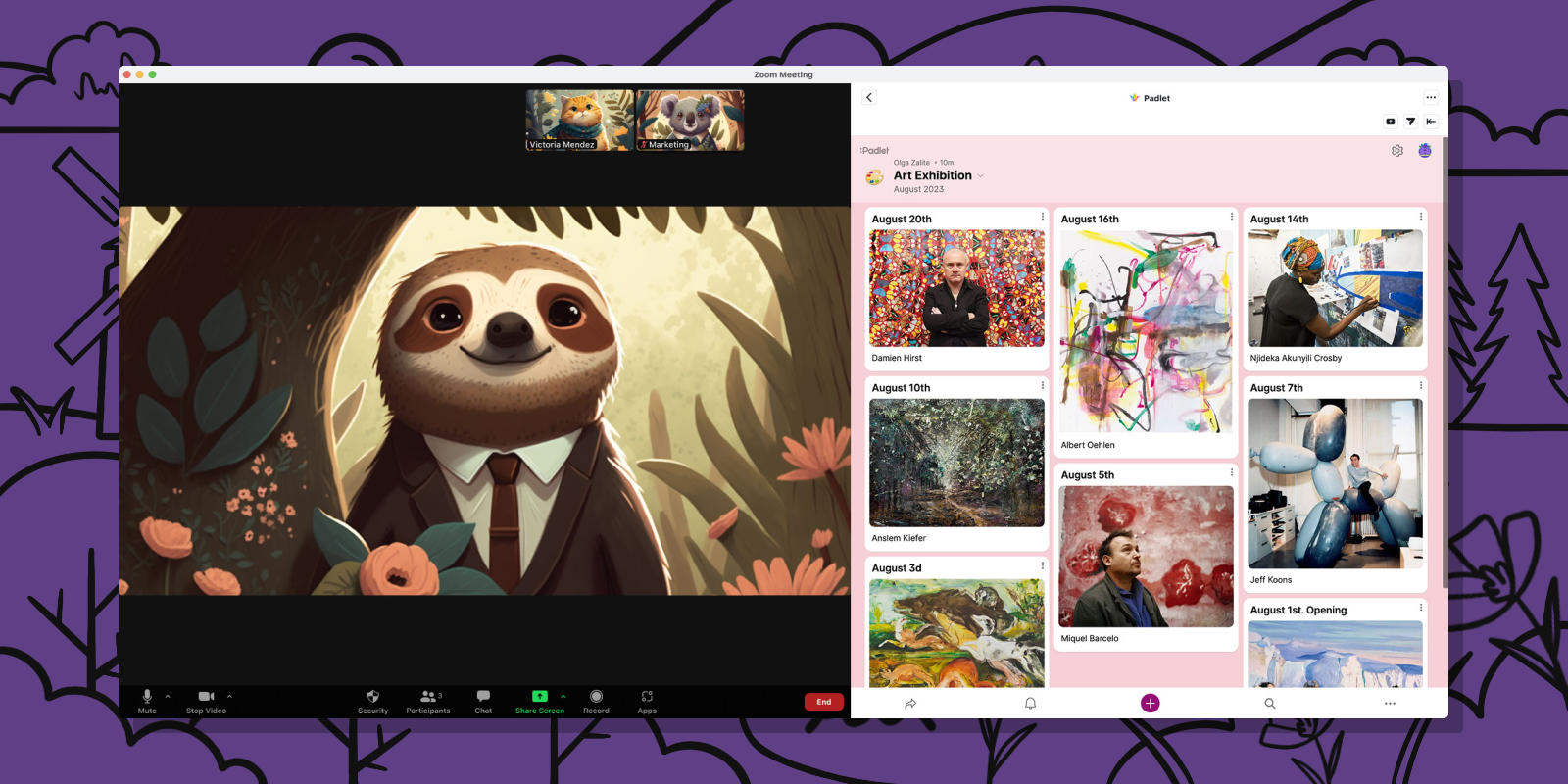 Padlet is used and loved by tens of millions of users worldwide to collect, organize, and share their thoughts and content in beautiful visual boards. We are already available on browsers and mobile apps, but we want Padlet to eventually be used everywhere, within any application. We are excited to launch the first step of this journey - Padlet's own app for Zoom.
Why Zoom? Zoom is used by people everywhere to talk to each other online -  joyous catch-up calls with far-flung friends, virtual classes where teachers try to wrangle distracted teenagers and serious corporate meetings where only half the attendees are wearing pants.

So much of modern life takes place on Zoom. We think Padlet would improve life on Zoom.
With the Padlet App for Zoom, you can access your padlets to take notes or share a padlet within the call and collaborate live together. You can also use our latest Slideshow feature to present lag-free, interactive slideshows that will capture everyone's attention
We hope these features will bring a little bit of joy into the sizable portion of our life that has been taken over by Zoom.
Here are some ways we think you will enjoy using our own app for Zoom.
1. As a meeting attendee, keep notes on your own personal padlet
Listening to a speech in real life can be boring. Watching people (or their icons) speak for an hour on a little computer screen in front of you can be mind-numbing. It's easy to drift off and get distracted, then lose attention entirely.
Opening a padlet in Zoom as your digital notebook can snap the meeting back into focus. Instead of passively listening, you can actively process what is being said by writing notes, adding links and screenshots, or even doodling, right within the Zoom window. You can also refer back to the padlet afterward to revise whatever you've learned from the meeting.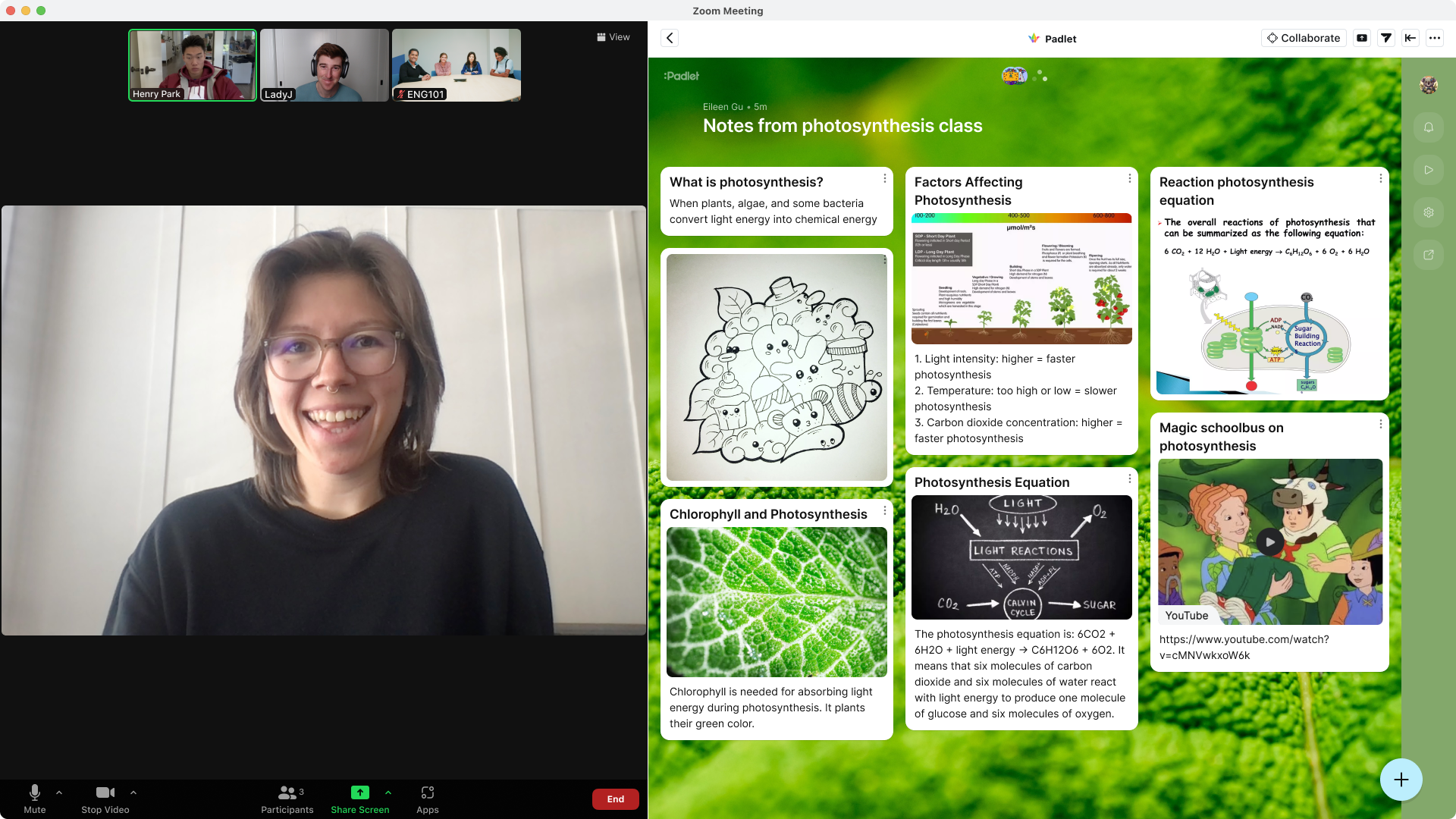 Your padlet will be yours and yours only, unless you choose to share it.
2. As a Zoom host, collaborate live on an engaging padlet
Imagine going through an entire year of schooling without a pen or paper. All you do is go to class and listen to your teacher as he/she writes on the whiteboard. There are no worksheets, homework, or group discussions. Would you master what was taught in class?
Probably not. Practice and active collaboration are essential to learning. Unfortunately, Zoom meetings often feel one-sided. The host goes through some content, participants just listen and sometimes, if they are feeling particularly brave, they raise their hand in Zoom to ask a question. It is hard for the meeting participants to remember what was said (unless they're taking notes) and more shy participants sometimes just fade into the background.
That changes with our new app for Zoom. Get everyone on the same page (literally) by launching collaboration mode with Padlet open. Everyone in your meeting will go to whichever padlet you are on, even as you change padlets. Anyone in the meeting can contribute to the padlet and as the host you can grade, like, and comment on each post, or let the meeting participants do the same.
Take these use cases for example:
A math teacher can whip out a Padlet after introducing a concept and every student writes out their response. The teacher can go through correct and incorrect responses to clear any misconceptions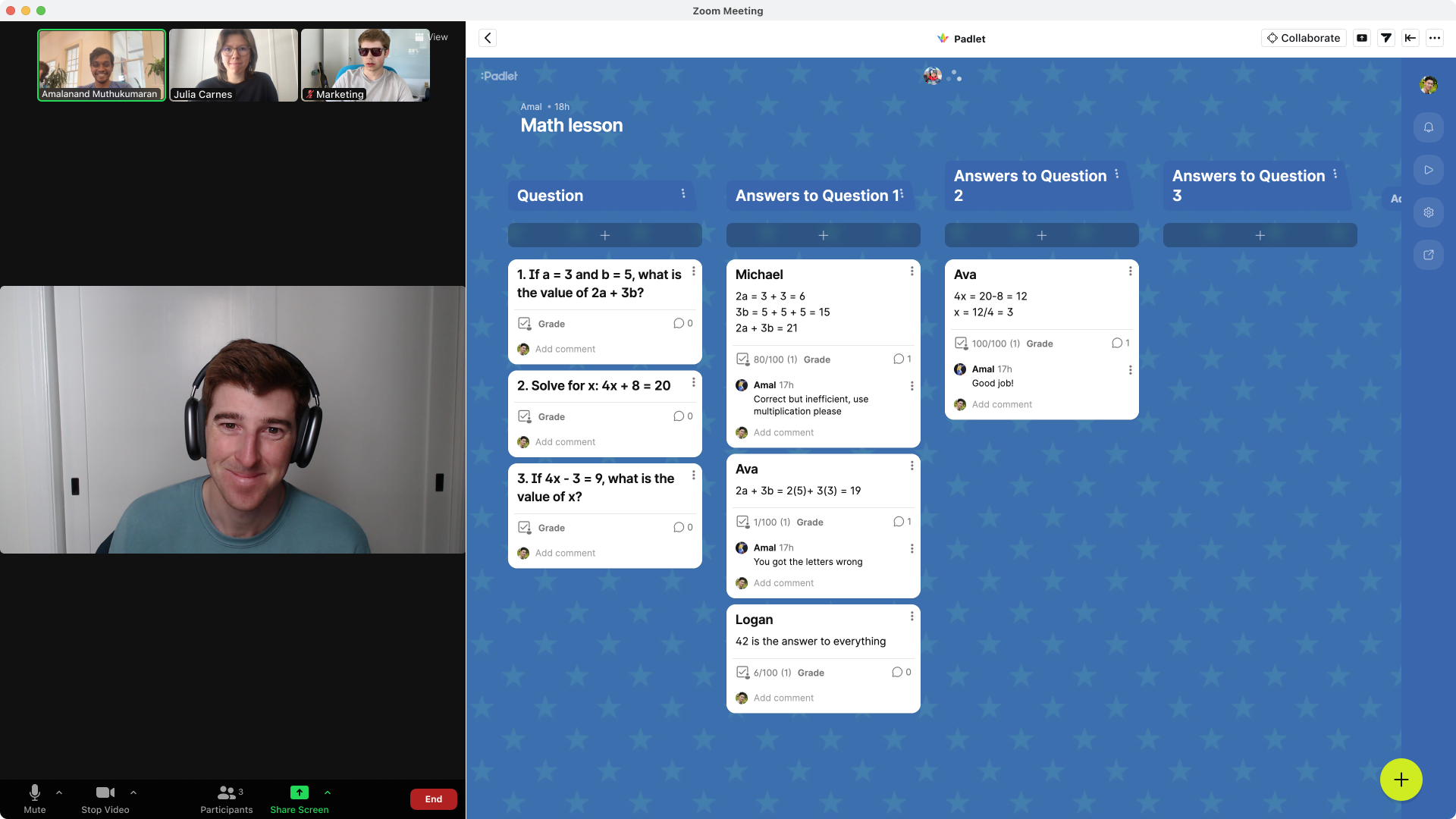 In a seminar, instead of going around with quick introductions punctuated with awkward pauses, open a padlet where each attendee can add a post to introduce themselves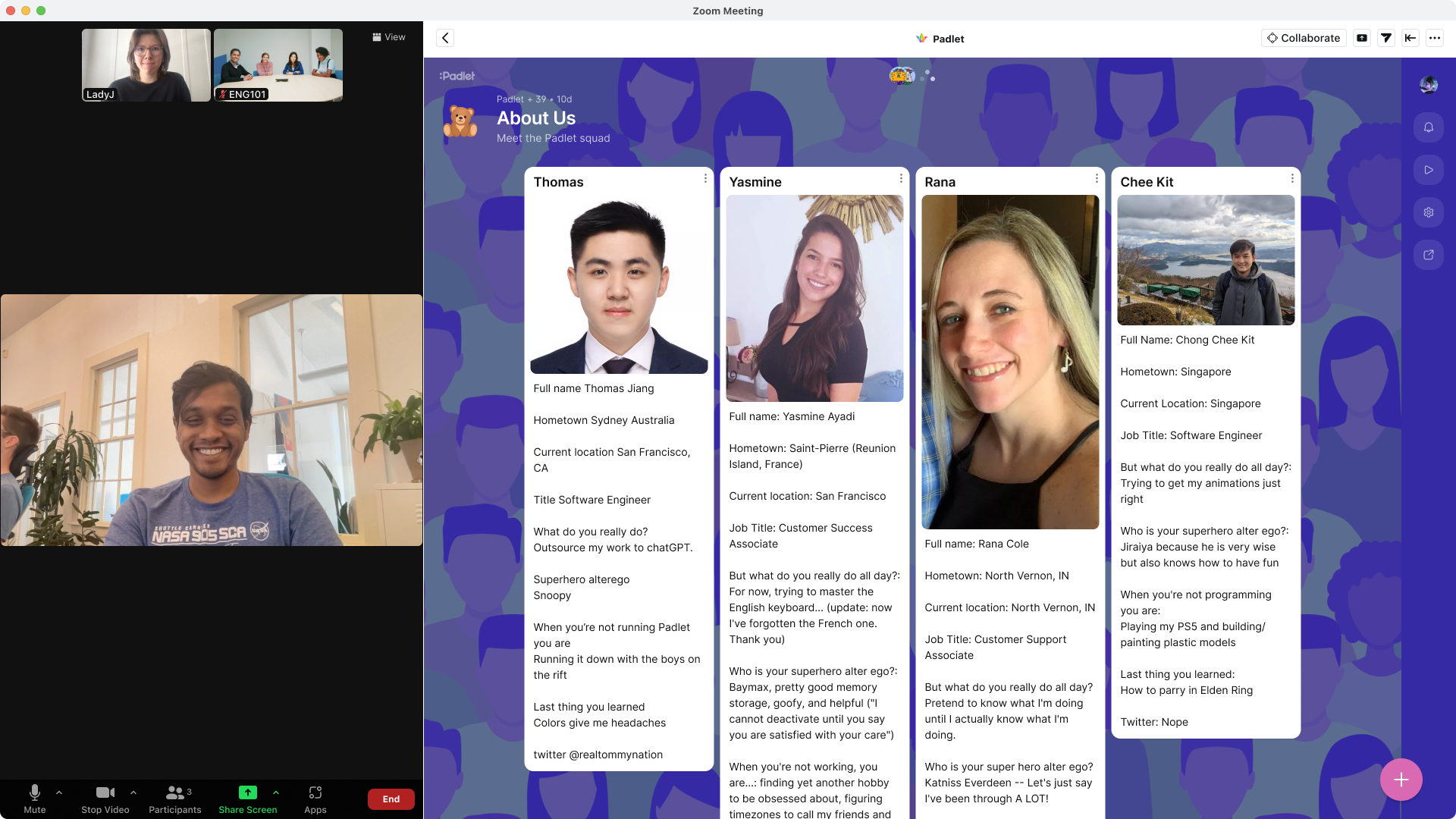 Other use cases: Brainstorming with your team, keeping meeting agendas, reviewing files together.
As a Zoom host, Padlet empowers you to get all your meeting attendees to contribute and participate, and for you to understand and adapt to what each meeting attendee thinks (not just the vocally active ones)
3. More engaging, lag-free presentations with Padlet Slideshows on Zoom
With our existing Slideshow feature, you can turn any padlet into a beautiful slideshow. These slideshows are 10x more beautiful than presentations made with other software and take only 10% of the time to make. Presenting your Padlet Slideshows on Zoom takes your presentation game even further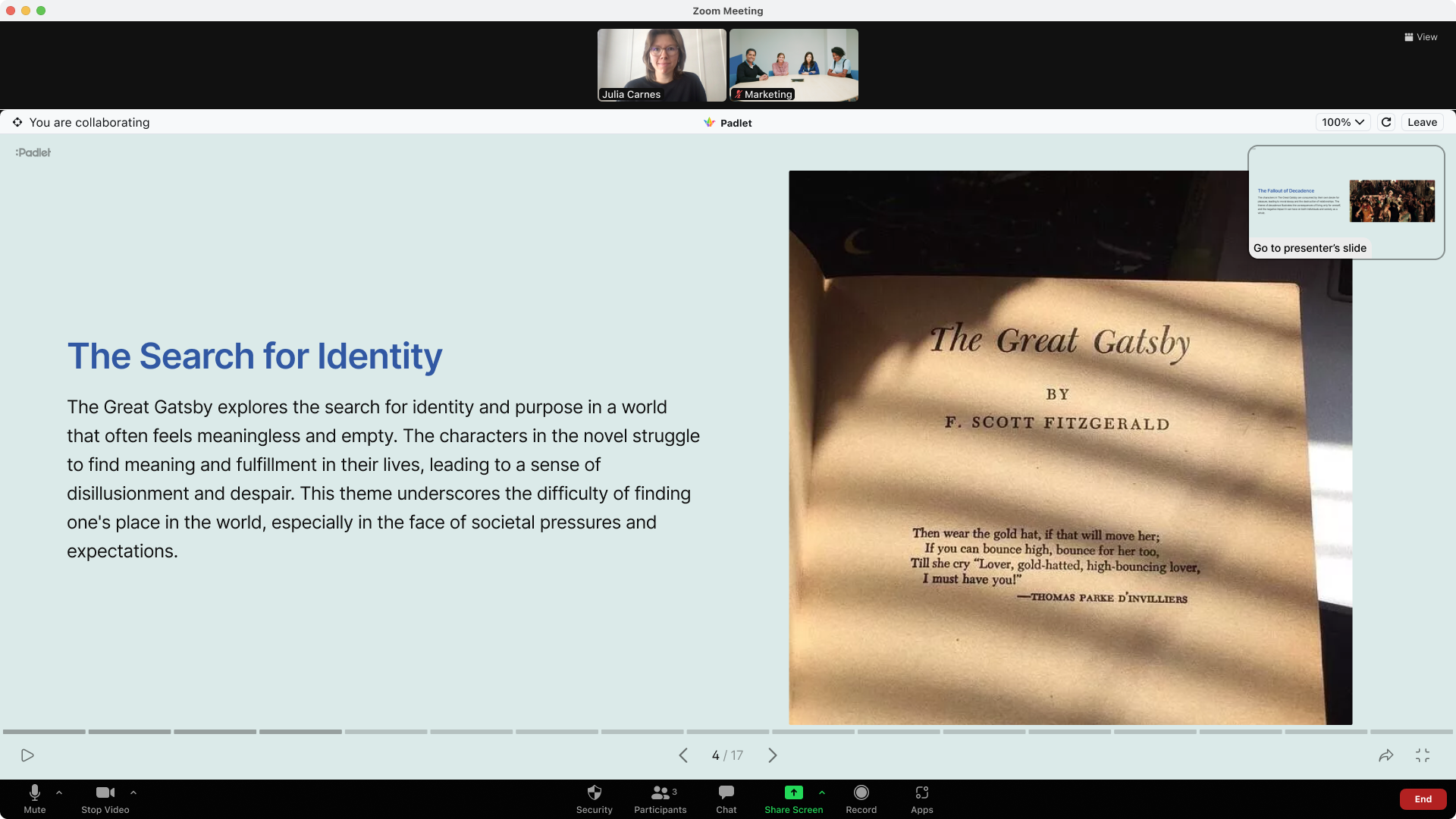 Padlet Slideshow allows you to do better than a simple screenshare
Your participants will be able to see a full-resolution, pixel-perfect presentation, instead of a blurry, pixelated screen
You control the slide on everyone's screen - they follow you as you go through your slideshow. But a participant can also go back or forward to a different slide if they want to. They will still be able to see your slide in the corner, and clicking on it brings them right back to the slide you are on as the host.
Padlet Slideshows are already easier to create than classic presentations, and with the Padlet App for Zoom, they're more engaging to your Zoom audience.
Installation and Usage
Interested? Install it here!  
We hope our app will breathe some color and creativity into your Zoom meeting!
P.S. We're hiring! If you believe in Padlet, we'd love to hear from you. Apply now!