Stay on top of your Padlet activity with email and push notifications
Introducing email notifications. Follow individual padlets and user accounts to get notified about their activity. Customize your notifications in settings.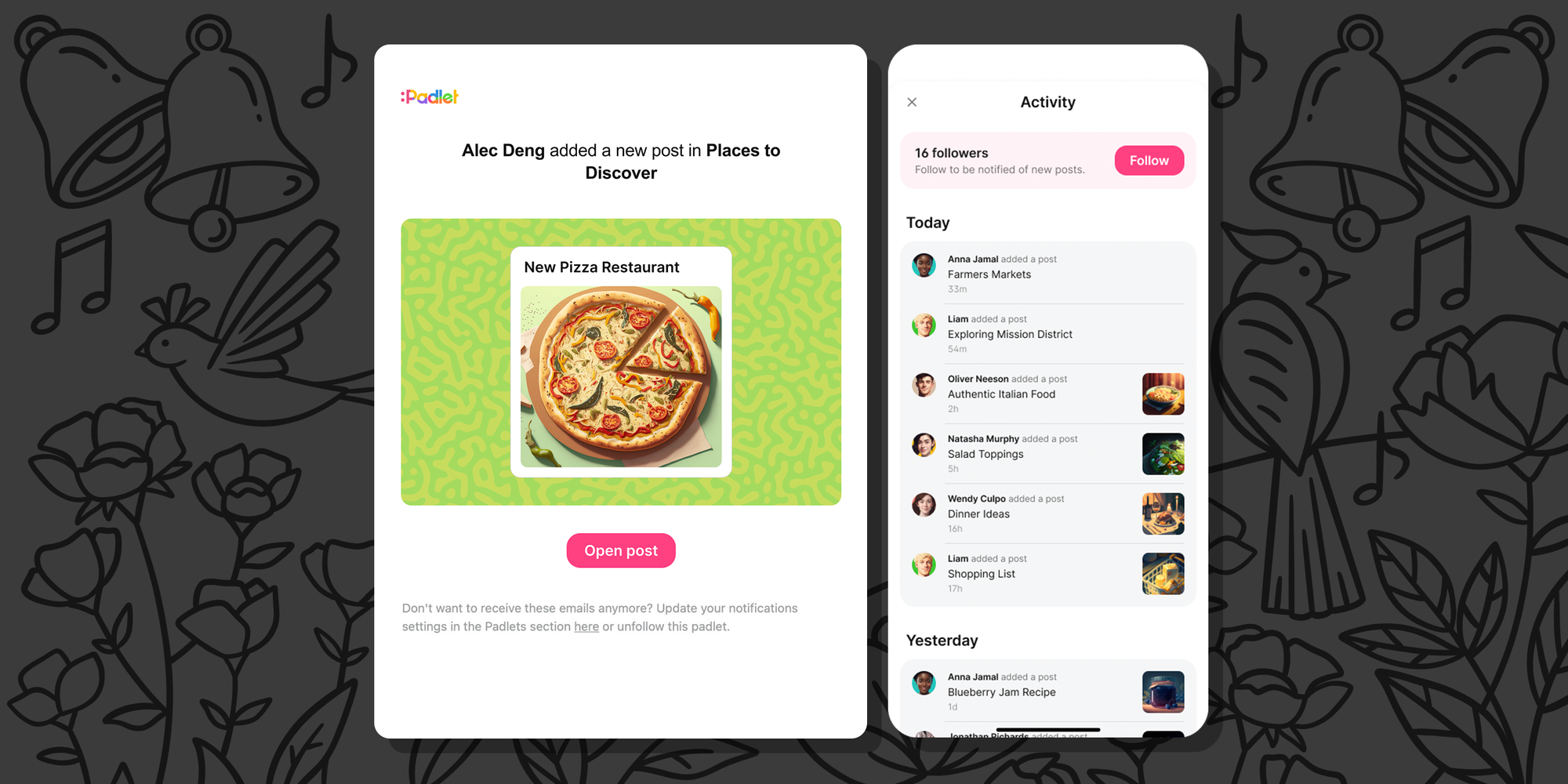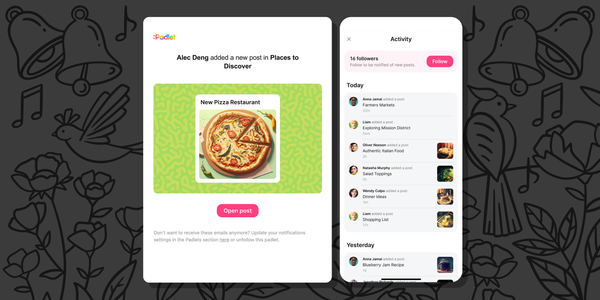 You're a meerkat. It's late morning in southwestern Botswana. You rise from the hole in your burrow and surmise with the furrow of your brow that not much has changed on the plains. The air is dry and cool in the low light of the early day and life in the animal kingdom is underway. Lithe cheetahs lay about languid in the shade of an acacia. Elephant hooves thunder the earth as elephants trunks lap tidal mouthfuls of murky river water.
A familiar call. Screeched with unmistakable urgency. A warning from a fellow meerkat!
Your every muscle flexes into action. On instinct, whipcord leg muscles snap you down and out of danger. Looking up and out from the safety of the burrow you witness: a jet black martial eagle with an eight foot wingspan careening down at 200 miles an hour. He collides with the earth above you. His razor claws snatch at the dust and dirt and emptiness of a failed descent.
He flies off. Hungry. Your heartbeat thrums in your ears. Proof you've survived. Another day on the Savannah.
Moral of the story: a timely notification can make a big difference.
Like a mob of meerkats, Padlet is at its best when everyone is collaborating. For the meerkats, it is essential to communicate the mealtime arrival of hungry martial eagles. For padleteers, it is critical to know when a student has posted their homework or when a question has been asked on a padlet they created. To facilitate the collaborative process on padlets, we are introducing a new notification system. Here's everything you need to know.
What's new
Receive real-time push and email notifications about the activity on your padlets.
Customize your notifications from the brand-new notifications page.
Follow any padlet to get notified about its activity.
Use the activity panel to follow, unfollow, or see the activity of any padlet.
Why we made this change
Padlet is a collaborative tool. When your whole team is working on a padlet at once, it's easy to see what everyone is doing, but when people are working separately on their own schedules, there hasn't been a good way to stay up to date with everyone's progress. Until now.
One of the most requested features in the history of Padlet is an improved notification system. To meet this desire, we've constructed a new notification system and activity panel to keep padleteers in the loop.
Now you can follow any padlet or account and you can control exactly what notifications you receive. This system provides the infrastructure to support long running padlets that are followed for regular updates. This should allow prolific creators to build a following and curious users to build lasting collaborative communities. It is now possible to become a Padlet influencer. Use your new power wisely.
How the system works
Managing your notifications
By default, you will receive notifications about only the most important activity on your account. In addition to push notifications, we now support email notifications. For example, you will receive a push notification when someone comments on one of your posts and an email notification when someone posts on one of your padlets.
We've taken measures to prevent you from receiving superfluous notifications: If a padlet you're following is getting a lot of activity, we'll simply send one email letting you know instead of cluttering your inbox.
If you want to turn off notifications or change the channel by which you receive them, you can customize all notifications on the new notifications page.
The notifications page breaks down all events on Padlet into three categories:
On the General tab, customize notifications for updates and activity pertaining directly to your account, such as invitations to collaborate on a padlet.
On the Padlets tab, customize the notifications you receive about padlets you follow.
On the Accounts tab, customize the notifications you receive about accounts you follow.
Following padlets
You will receive notifications about the padlets you follow. You will automatically follow every padlet that you make and every padlet you're invited to as a collaborator. You can also follow other people's padlets through the new activity panel. By default, you will get notifications for new posts and comments on your followed padlets.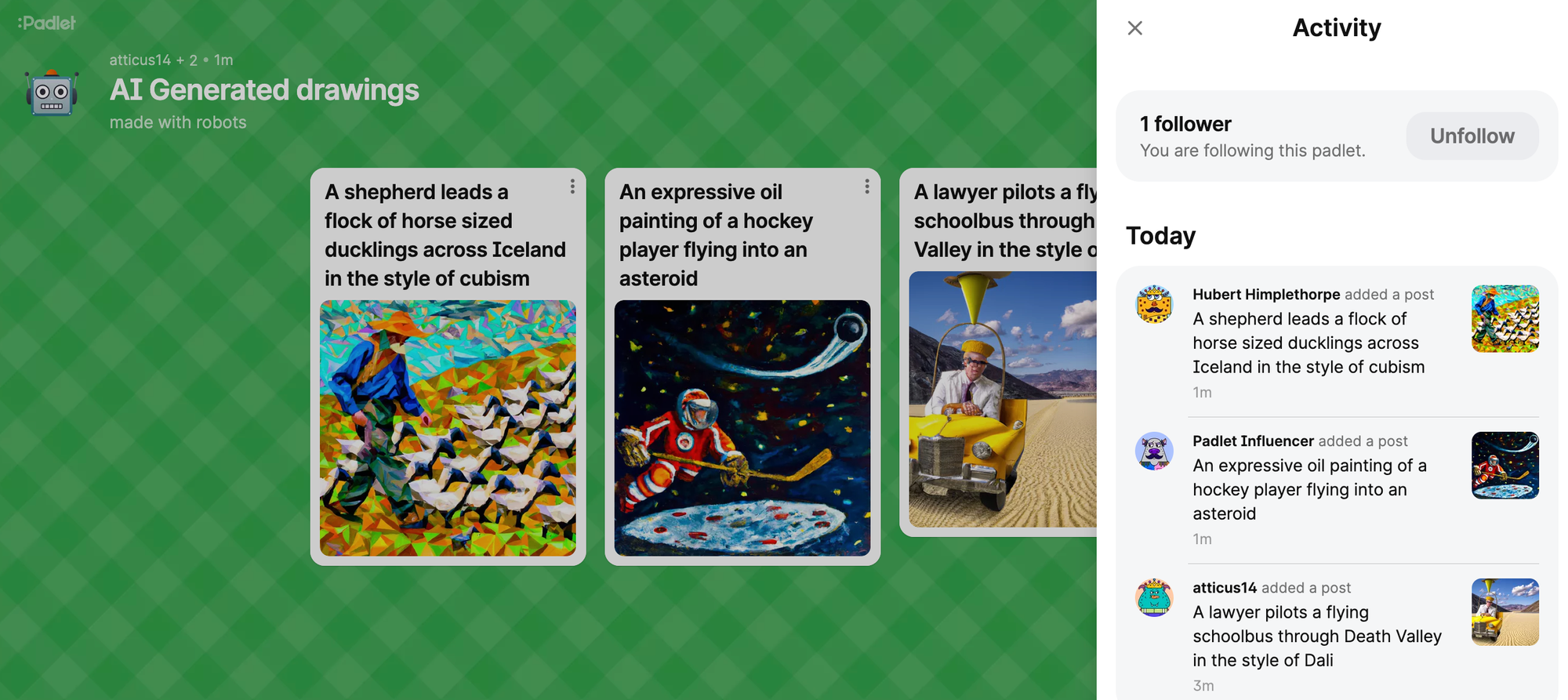 When you visit a padlet, you can access the activity panel by clicking on the button with a bell icon in the action bar. You can also use a padlet's activity panel to see the posts that have been added in chronological order.
If you don't want to be notified about the activity on a padlet you follow, including your own, you can unfollow that padlet from the Padlets tab of the notifications page, the activity panel of the padlet, or any email notification about the padlet.
Following accounts
If there's a Padlet user whose work you appreciate, or if you have a friend, classmate, or teacher who uses Padlet, you can follow them and be the first to know when they create a public padlet.

Use the Accounts tab of the notifications page to track who you're following.
When will these changes take effect
These changes are available now on Desktop and will be available later today (December 15th) on the app.
Where to find more information